An unforgettable adventure with the whole class
During a day in Efteling there is more than enough to do for school pupils. Wander through the Fairytale Forest or go on board a cursed ghost ship: the day will be full of surprises for everyone.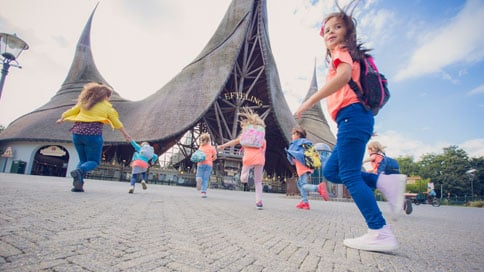 From € 19.00 to € 14.00*
---
Classes from primary and secondary schools benefit from a cheaper entry price, for both pupils and companions. Book a school trip to Efteling before April 1st 2017 and pay € 14.00 instead of € 19.00. To make a reservation please send an email at schools@efteling.com, or call the Efteling Contact Centre via +31 (0)416- 537 777.
* The promotion is valid for school trips taking place between November 14th 2016 until November 10th 2017, if you make a reservation before April 1st 2017. When you make a reservation after April 1st 2017, you pay €19.00 per person. View all the conditions for school trips here. 
Leave the sandwiches at home...
Have Little Red Riding Hood's sandwiches for lunch, or one of Long Neck's delicious snacks or The Dragon's steaming bites? Upgrade your school trip with one of these package deals from € 3.75 extra per person.
For the teachers
---
Get the most out of the school trip to Efteling with our educational programme. Download this fun and interesting booklet and challenge your pupils! During the visit go on a nice treasure hunt together, and afterwards talk about how everyone experienced this day full of wonders.
Educational programme