An unforgettable adventure with the whole class
During a day in Efteling there is more than enough to do for school pupils. Wander through the Fairytale Forest or go on board a cursed ghost ship: the day will be full of surprises for everyone.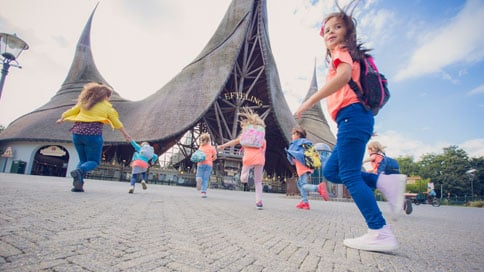 Extended offer!
---
Book before April 1st and pay only €14 per person!
Classes from primary and secondary schools benefit from a cheaper entry price, for both pupils and companions. Book a school trip to Efteling and pay € 14.00 instead of € 19.00. To make a reservation please send an email at schools@efteling.com, or call +31 (0)416- 537 777.
View all the conditions for school trips here.
Leave the sandwiches at home...
Have Little Red Riding Hood's sandwiches for lunch, or one of Long Neck's delicious snacks or The Dragon's steaming bites? Upgrade your school trip with one of these package deals from € 3.75 extra per person.
Practical information
Reception and landmark 
You arrive at the car park by coach. If it is busy at the entrance, we use signs with Efteling inhabitants. You will be informed beforehand at which sign your group should meet.

First aid
There is one first aid post at Efteling. It is located in the enchanting Marerijk, to the left of the Carousel Palace. Every Efteling employee can call the First aid post if necessary.

Map
Just after the entrance, employees will give you a map of the park. You can also find the map in the Efteling app, which you can install on your smartphone.
Attractions
Efteling employees are present at each attraction and it is important to follow their instructions. For instance: please take note of the required height per attraction; make sure you always remain seated during the ride; never get out when this is prohibited; keep your hands and feet inside; do not switch to other boats or carriages and do not hold loose objects such as telephones or cameras.
Height measure
Would the children like to see which attraction they can go in in advance? Check the height measure.