Plan your visit
---
Would you like to know everything about the accessibility of Efteling? Or how to arrange a facility card? Discover all the practical information you need to plan your visit.
Discovering the park? View more information about the accessibility of the attractions and park shows, toilets, restaurants, assistance or guide dogs and more here.
Entrance with facility card
---
Would you like to make use of the facilities for visitors with a disability? Then you need the following:
Valid entrance ticket
Facility card
Please note: Apply for the facility card only after you have made a reservation for your visit. The facility card is valid for a maximum of 5 days.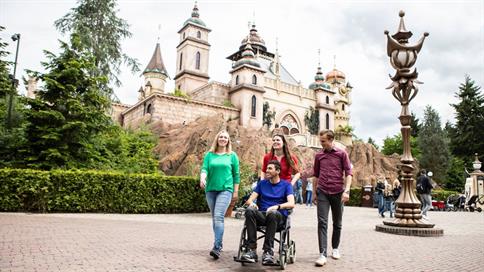 Entrancetickets and reservation for your visit
To visit Efteling you need an entrance ticket as well as a reservation. Guests with disabilities also reserve the day they want to come online. You can also easily buy a ticket online or via the Visitor service centre.
When you buy a ticket at the Visitor service centre, you will receive a € 2.00 discount on the entry price for yourself and a maximum of three companions upon presentation of your facility card. If you would like to make use of this option, please choose "I already have entrance tickets" when booking your visit.
Facility card
In order to make use of the facilities for visitors with a disability, you need a facility card. This card is personal and is only valid for the duration of the entrance ticket.
With the declaration you state that you are not able to visit the attractions using the normal queues, and you can indicate whether you are able to visit the attraction alone or whether you need the help of a companion (and possibly an attraction employee). We do not request any medical information concerning the nature of the disability. A declaration is necessary because, in many cases, our employees cannot determine if a guest is unable to visit the attraction using the normal entrance.
Request your facility card by filling in the form, after which you can download and save the facility card or print it out straight away.
Accessibility Efteling
Parking
Paid parking spaces have been reserved for disabled visitors in the front rows of the car park. Do you have a European disabled parking permit? You may use this. Please inform one of the car park attendants who will indicate where best to park. You still need a car park ticket.
Taxi
If you are coming by taxi, navigate to the special pick and drop-off area for disabled visitors at the intersection of Kinkenpolder and Eftelingsepad (Efteling Path).
Public transport
Efteling can easily be reached by public transport from the railway stations in Tilburg and 's Hertogenbosch. The 'Efteling' bus stop is easily accessible. The main entrance can be reached from the bus stop through the pedestrian tunnel. Please keep in mind that there is a slope here.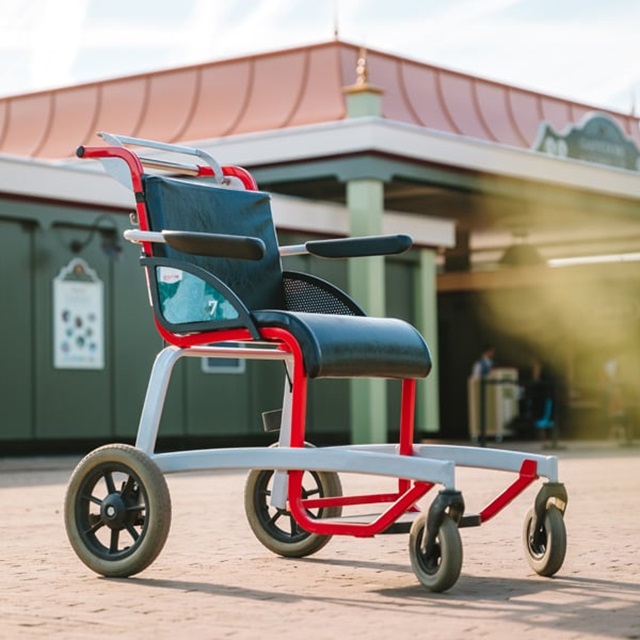 Borrowing a wheelchair
Efteling has a limited number of wheelchairs that can be rented free of charge on the basis of availability. We recommend booking a wheelchair, which can be done up to 1 day before the visit. You can find the wheelchair service in the service building by the car park.
Please ask whether a wheelchair has been made available at the wheelchair desk on the day of your visit if there are no wheelchairs available. You can also rent a wheelchair outside Efteling. Ask about this at a homecare shop or your health insurer.
Note: the footrests on our wheelchairs cannot be folded horizontally and are therefore not suitable for keeping your leg up.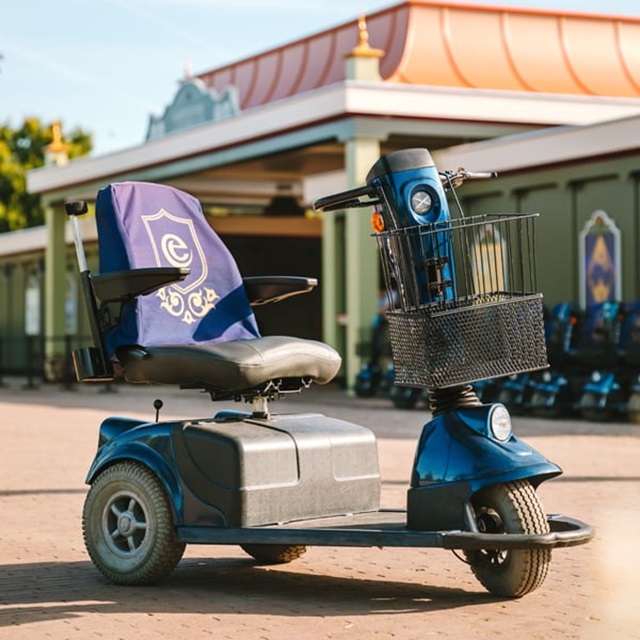 Renting a mobility scooter
Efteling has a limited number of mobility scooters that can be rented for a fee, depending on availability. A minimum age of 16 years applies to renting a mobility scooter. Reservation is necessary and possible at least 1 day in advance. The rental fee is €20. On the day of your visit, you can pick up the scooter at the drop-off point, which is located in the service building near the car park. The rental fee must be paid there.
As an overnight guest of Efteling, it is possible to rent a mobility scooter for several days. You can collect the mobility scooter from the reception of your accommodation on the day of your arrival.
Employees who know sign language
---
Visitors who are either deaf or hard of hearing can recognise employees who know sign language by the orange badge. This badge indicates that these employees are able to communicate in sign language.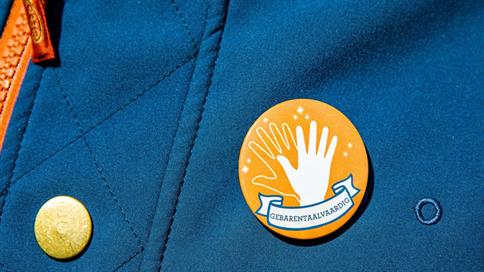 Discovering the park?
During your visit to Efteling there are all sorts of facilities to make your visit as pleasant as possible. Discover all you need to know about accessibility of the attractions, toilets, guide dogs and so on!