Enchant your guests at Efteling
---
A business meeting or informal event in the most unique surroundings you could imagine: Efteling. That would be an occasion your colleagues or business clients wouldn't easily forget! From meetings to conventions and from team outings to company parties; your event is guaranteed to create lasting memories. Would you like to make it really 'big'? For a unique experience, make an evening reservation at Efteling or organise a Theme Park Hire during which your guests have all or part of Efteling entirely to themselves. That's guaranteed to please everyone!
We look forward to working with you.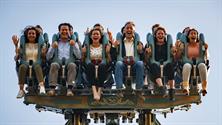 If you have any questions or would like a quote, please contact us via:
From meetings to a Theme Park Hire
---
In the World of Wonders anything is possible. A meeting in the luxurious Efteling Hotel, a conference with a spectacular ride in Baron 1898 during a break, a staff party in an enchanting environment or a Theme Park Hire with the whole park exclusively for you and your guests.
Efteling as the ideal location:
---
Your event in the most unique environment you could wish for
Make use of the Efteling brand to tell your story
Visit an attraction during your event
A high attendance is guaranteed
Various event locations for between 100 and 16,000 people