Experience an enchanting New Year's Eve at Efteling
Thousands of twinkling lights, wintry attractions, heartwarming entertainment and, of course, festive fireworks; welcome in the New Year in an enchanting way on 31 December! Experience an extraordinary New Year's Eve with family and friends at Efteling!
All accommodations are fully booked with New Year's Eve and tickets for New Year's Eve in the Efteling Park are sold out.
Welcome the new year festively
Attractions
The attractions will be open until 1.00 am. The Stoomtrein steam train will be closed from 11.15 pm due to the fireworks. The Halve Maen swinging ship, Oude Tuffer classic car ride and Fata Morgana dark ride will be closed between 11.30 pm and 12.20 am.
Spectacular fireworks
The new year will be welcomed at two locations: around the Siervijver ornamental pond (blue bracelet) and around the Vonderplas lake (red bracelet). We will count down to 2019 together from 11.45 pm!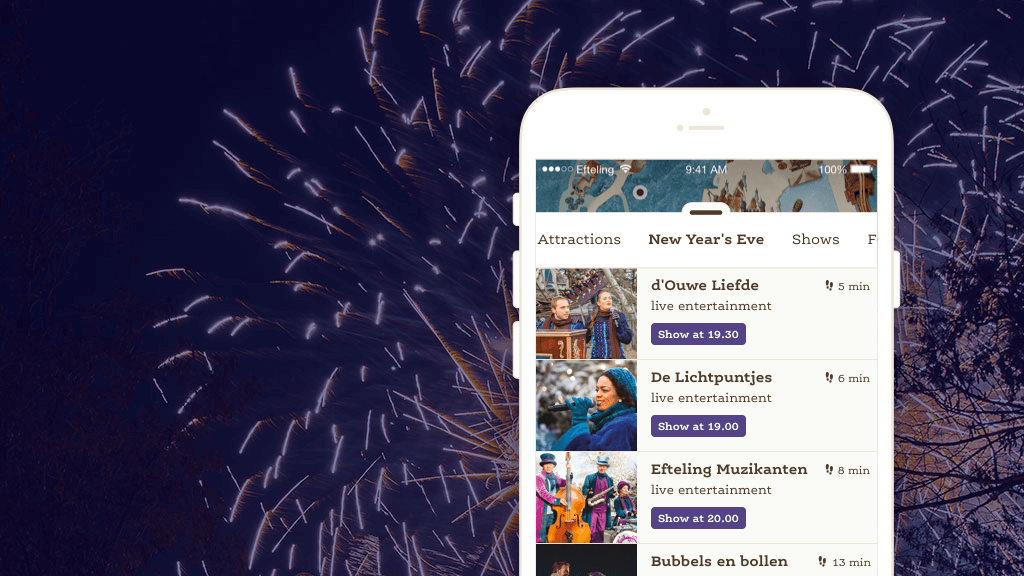 Efteling app
---
Download the free Efteling app for the current waiting and opening times. On New Year's Eve, you can view all the information about the New Year's Eve festivities in the app from 7.00 pm.
Download the app
Frequently asked questions about the New Year's Eve festivities
Is it possible to spend the entire day in the park with New Year's Eve tickets?

Is it possible to spend the entire day in the park with New Year's Eve tickets?

No, the New Year's Eve tickets only give you entry to the evening event, from 7.00 pm to 1.00 am.

Can I bring my own fireworks to the park and/or accommodation?

Can I bring my own fireworks to the park and/or accommodation?

No, you are not allowed to bring your own fireworks to the park. At 12.00 am we will welcome the new year together with beautiful fireworks at two locations in the Park.

Until what time are the attractions, catering services, shows and shops open?

Until what time are the attractions, catering services, shows and shops open?

Download the free Efteling app for the current waiting and opening times. On New Year's Eve, you can view all the information about the New Year's Eve festivities in the app from 7.00 pm.


Are there buses in the evening and at night?

Are there buses in the evening and at night?

On presentation of your Efteling New Year's Eve ticket, you can use the special bus shuttles to Tilburg and 's-Hertogenbosch free of charge.



Direction Tilburg
Departure times: 11 p.m., 1 a.m. and 2 a.m. (subject to change)

Stops:

Kaatsheuvel, Efteling
Tilburg, Ringbaan West Rotonde (Hasseltrotonde)
Tilburg, Ringbaan West
Tilburg, Hart van Brabantlaan
Tilburg, Centraal Station (23:30 uur, 01:30 uur, 02:30 uur)

Direction 's-Hertogenbosch
Departure times: 11 p.m., 00.30 a.m., 01.45 a.m. (subject to change)

Stops:

Kaatsheuvel, Efteling
Kaatsheuvel, Horst
Kaatsheuvel, Vaartstraat
Sprang Capelle, Sprang kruispunt
Waalwijk, Mozartlaan
Waalwijk, Blyde Incomstelaan
Waalwijk, Busstation Vredesplein
's-Hertogenbosch, Vlijmenseweg
's-Hertogenbosch, Onderwijsboulevard
's-Hertogenbosch, Leeghwaterlaan
's-Hertogenbosch, Centraal Station (23:45 uur, 01:10 uur, 02:25 uur)