Stay in an oasis of nature and comfort
At a 10 minutes walk from the park you can relax in the comfort of the luxurious self catering houses and family rooms. In Holiday Village Efteling Bosrijk you will find luxurious and atmospheric holiday homes, family rooms and group accomodation. All including unlimited access to the Efteling theme park.
More about Holiday Village Bosrijk
All facilities at a glance:

Restaurant (breakfast, lunch, dinner)
Pizza delivery
Bar
Swimming pool
Playground(s)
All services at a glance:
Souvenir Delivery Express
As an extra service, a shuttle bus commutes between the park and Efteling Bosrijk every day from one hour before the opening of the park until one hour after closing time.

Parking
As a guest of Efteling Bosrijk, you park for free in a car park at the entrance of the holiday village. From here you can walk to the entrance of the theme park in just 10 minutes. You can also take the free little train to the entrance.
More general information
All facilities of Holiday Village Efteling Bosrijk
Eating and Drinking
---
Treat yourself to a delicious lunch or dinner in Eethuys restaurant. Or order a pizza which will be delivered to your door. For breakfast you can visit the restaurant or make use of the breakfast delivery service. But you can also buy a treat in the Kleyn Waerenhuys (small grocer's shop).
View possibilities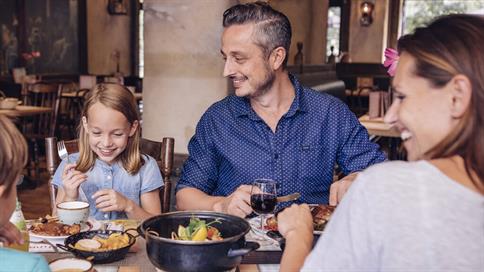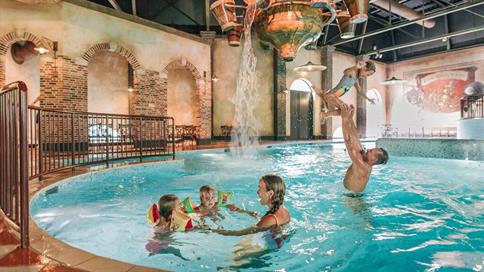 Swimming at the Badhuys
---
The Badhuys at the Holiday Village Efteling Bosrijk is an indoor water play area with a paddling pool, a pool for toddlers, a 130 cm deep pool and various play items. Come and have fun in the hot water, let yourself be carried away by the currents or relax in the bubble baths.
More about the Badhuys
For children
---
Take a dive into the Badhuysindoor water playground or climb the playground equipment that can be found in various locations in Bosrijk. Of you can go and enjoy a game of footie on one of the lawns.


More info