Once upon a time…
In the Netherlands, Efteling is often called the 'Keeper of fairytales'. After all, many fairytales come together in Efteling. The Fairytale Forest is the heart of Efteling; it is the place where fairytales have been coming alive for almost 65 years. In 1952 Efteling started with ten fairytales, and in the meantime there are 29 already! For all new developments in Efteling Theme Park Resort the enchanting core always remains the starting point. Fairytales, sagas, legends and stories continue to form the basis for the attractions.
By word of mouth
---
Fairytales are part of the folk tales genre. There have been folk tales for as long as people have communicated with each other. Folk tales such as fairytales, legends, myths and sagas have been told and retold for many centuries. This is why the creators of most fairytales are unknown. Someone thought of a story or tale, told it to his fellow villagers in the square while a travelling merchant passing through picked up the story and retold it in the next village. In this way each fairytale began to live its own life, and that is why there are often various versions of one of these stories. Each fairytale has a morality, or a wise lesson. From the first fairytales were actually meant as life lessons for adults, not for children! Fortunately, the Efteling fairytales are for everyone. For instance, do you know the story behind Mother Holle? And do you know why the Dragon lives in the Fairytale Forest?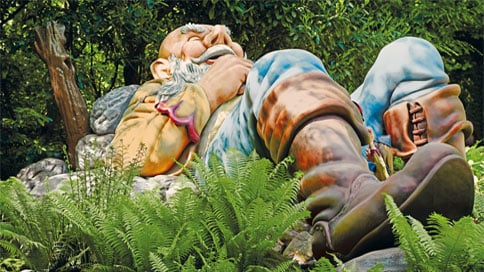 Attention to fairytales
---
Efteling believes it is important to bring fairytales to the public attention, and organises special activities for this. A current example of this is the cooperation with the Dutch Reading and Writing Foundation. Since 2013, activities are organised every autumn to stimulate children and their parents to read.