Passing on an even better Efteling ...
Taking good care of the world around us. That's self-evident. It's simply and literally in our nature. We know better than anyone that you can change the world with love and attention. And that's not a fairytale, it's just the power of Efteling. Ever since the establishment of Efteling Nature Park Foundation in 1952, we have been committed to passing on Efteling in an even more beautiful state than it already is. After all, fairytales have also been handed down to new generations for centuries.
Towards climate positive by 2032
---
With the power of the imagination as our energy source, we are working every day to make our park more sustainable. And we need to, because we have set the bar high: Efteling must be climate neutral by 2030 and climate positive by 2032. In order to achieve that, we have placed 12,000 extra solar panels on our car park in 2022, for example. And from 2023, the mystical Anderrijk park area will be heated and cooled gas-free.
Proud of our natural surroundings!
---
With Efteling Nature Park Foundation as sole shareholder, nature is integral to our identity. And let's be honest: Efteling would not be Efteling without its green surroundings. Nature here is an experience in itself for our guests. They give it an average rating of 9.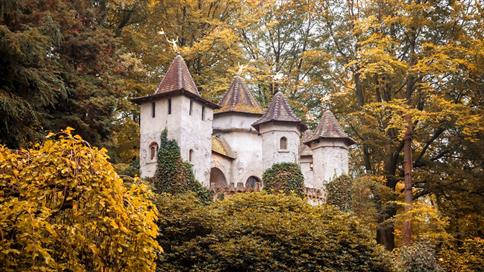 It is important for us to protect the natural character of the park at all times. For example, a maximum of only eleven per cent of the Efteling Park may be built upon. This means that the remaining area offers a lot of space for biodiversity. The World of Efteling is home to many types of animal, such as foxes, rabbits, hedgehogs, squirrels and bats, as well as butterflies and dozens of (sometimes quite rare) bird species.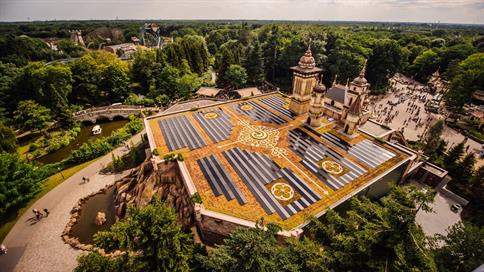 Energy generation and savings
---
The energy required for the World of Efteling is increasingly generated from our own renewable sources. There are solar panels on several roofs, such as the roof of Symbolica dark ride, and we have installed 12,000 additional solar panels on the car park in 2022. We also buy 100% European wind power.
When maintenance or major repairs of attractions are carried out, sustainability is always a key consideration. We also save energy by choosing new sustainable components, such as LED lighting or more fuel-efficient motors. But even small adjustments can have quite an impact. For example, our employees switch on attractions and kitchen appliances later on their own initiative, which saves a lot of energy.
From 2023, the mystical Anderrijk park area will be heated and cooled gas-free using geothermal heating and cooling. The new Efteling Grand Hotel, which opens in 2024, will also be connected to this system. In addition, several office buildings will be heated and cooled gas-free. Opened in 1992, the Efteling Hotel has the very first geothermal heating and cooling installation in the World of Efteling. In the coming years, we will invest increasingly more to reduce gas consumption, contributing immensely to our climate ambition.
Reducing non-recyclable waste
---
Ever since the arrival of Big Mouth 'Holle Bolle Gijs' in 1959, Efteling has been working to prevent litter and encouraging guests to dispose of their rubbish properly. Efteling is always looking for ways to recycle waste and avoid non-recyclable waste. Our ambition is 0% non-recyclable waste in 2030. Getting guests to separate their waste is the biggest challenge here. The first step has been taken by separating PET bottles thanks to charging a deposit. Visitors can donate the deposit from these bottles to Villa Pardoes.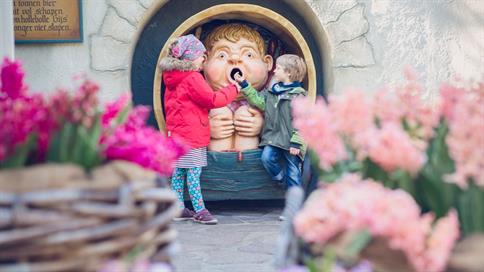 Behind the scenes, Efteling collects all the different waste streams separately. And that produces various new raw materials. We are also constantly looking for circular solutions. In consultation with our suppliers, we also try to avoid unnecessary packaging and choose recyclable alternatives.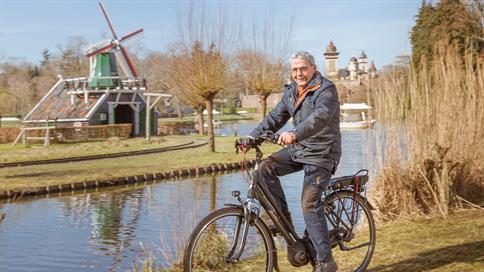 A different approach to mobility
---
The majority of our guests come to Efteling by car. We would like this form of transport to be cleaner. We therefore have a large number of charging stations for electric cars. Guests arriving by bicycle can park free of charge right next to the main entrance. We also seek out relevant partnerships with public transport providers to make it easier and more attractive to travel to and from Efteling in this way.
Efteling wants to reduce CO2 emissions from commuting by 20% per employee by 2030. Every new lease car is electric and we encourage employees in various ways to cycle to work, including a bicycle plan and an app with assignments, challenges and prizes.