Polles Keuken Pancake restaurant
Come and have a majestic breakfast, lunch or dinner
In the Royal Kitchen of Symbolica
---
Pans simmer, kettles whistle and ladles tap around the cooking stove. Cook's mate Polle can barely handle the kitchen. He has only one thing under control: flipping pancakes according to his secret recipes. Polle even made the tallest stack of pancakes in the world in his pancake restaurant.
With the Kings approval
we present our secret courses to you.
Pancakes
Polle offers a selection of 10 sweet and 10 savoury pancakes. Little children can get a heart-shaped pancake which they can decorate themselves.
Royal desserts
Have an enormous royal dessert with your family or take a smaller one just for yourself. There are also other sweet treats on the menu in Polles Keuken.
Magical drinks
A tap with magical water is hidden somewhere in Polles dining room. A variety of other drinks as soda, beer, wine and hot drinks are also available.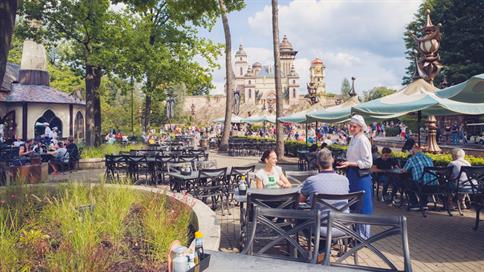 Polles Keuken pancake restaurant is open every day
---
Pancakes are served from 11.30 o'clock. You can visit Polles Keuken until the Park closes, but you're allowed to linger afterwards. Coffee and cake are served all day long.