Enjoy your meal!
---
During your stay enjoy the lavish breakfast buffet included, or take a seat at the table for a delicious lunch, cup of coffee and cake, drinks and snacks or dinner. Below you will find an overview of all the choices for food and drinks in Efteling Hotel. You can make a reservation at the reception, or in advance through customer service (except for De Gelagkamer).
Book




Would you like to book a table or an extra option?
Daily from 9.00 am until 9.00 pm
Breakfast at the hotel
---
Start your day full of energy and enjoy the varied breakfast buffet at De Hoffelijke Heraut Restaurant. Breakfast is included with each overnight stay. Do you prefer a breakfast in bed? For only € 10 per room, you can have your breakfast delivered to your room. Place your order on the door hanger and hang it outside your door before midnight.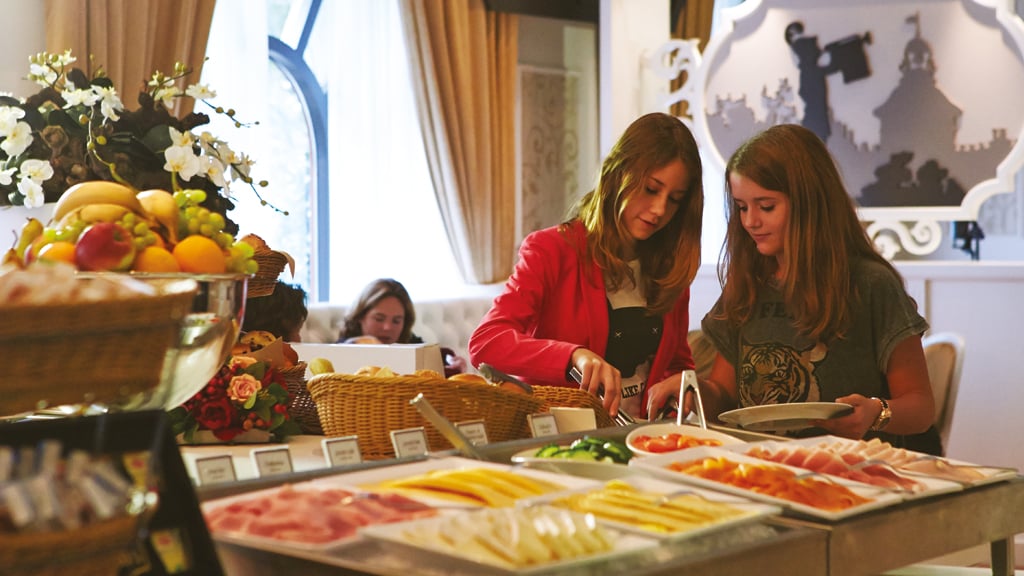 4-course Castle buffet
Do you prefer to choose a little bit of everything? Join the Koninklijke Kasteelzaal room and enjoy the with delicious hot and cold dishes of 4-course Castle Buffet. There is something for everyone!
For more information and to check availability, please contact us via +31 (0) 416 537 777.

Food and drinks in your room
Would you like your dinner delivered to your room? Use our room service and have various dishes and drinks delivered. You can find the special room service menu in your room. You can order at the reception until 11 p.m.
Champagne
Something to celebrate? Have a bottle of champagne cooled on arrival. When you book, order a bottle of Louis Roederer Brut Premier for € 77.50.
Mr Sandman Cake
It's always party time with this Mr Sandman cake, with no less than 10 big pieces! Order the cake for € 32.50 when you book or through customer service.
Fairytale bubbles
Add to your booking a bottle of cold Prosecco and a bottle of Fairytale Tree children's champagne, including champagne glasses for € 49.95.