About Efteling Village Bosrijk
---
Want to know everything about Efteling Village Bosrijk? Here you will find all the information you need for your stay. Take a peek at the holiday village in advance, by viewing the map.
Arrival and departure
---
You will receive your travel documents a few days before your stay with us. The travel documents include:
Practical information about your stay
The key card, which gives you access to your accommodation
Two parking passes for the car park at the Holiday Village Efteling Bosrijk
Entrance tickets for Efteling Theme Park
Further information about your booking can be found on My Efteling.
Checking in & checking out
The key card gives you access to your accommodation from 3.00 pm on the day of arrival, so you do not have to go to reception to check in. If you have not received your travel documents, please pick them up at the reception. You must leave your accommodation before 11.00 am on the day of departure. Going to the reception to check out is not necessary. You can use your key card to park your car in the car park at the main entrance.
The Efteling Bosrijk Holiday Village reception is located in the Poorthuys and is open from 7 am to 10.30 p.m.. The reception telephone number can be found in the information brochure in the accommodation. The Efteling Contact Center can be contacted by phone at +31 (0) 416 537 777. If you have any questions about your stay, please check the FAQ.
Route description
By car
Plan your route now or enter the following address in your sat nav:
Eftelingsestraat 7
5171 RP Kaatsheuvel
Nederland
Parking
As a guest of the Holiday Village Efteling Bosrijk, you can park for free in the nearby car park using your key card. You may use this car park every day of your stay. You may only enter the holiday village with the car to bring your luggage to your accommodation on the day of arrival and departure. For guests in an adapted holiday home, there is a parking space next to the house. Charging stations are available at a fee for electric cars. You must bring your own charging cable.
By public transport
The Holiday Village Efteling Bosrijk can easily be reached by public transport from anywhere in the Netherlands and Belgium. Find out which train or bus connection you need and plan your trip!
Are you staying overnight in Efteling and using public transport? Then register for the free Shuttle Service if you would like to be brought to your accommodation from bus stop Efteling.
Entrance to Efteling Theme Park
---
As a guest of Holiday Village Efteling Bosrijk, you receive unlimited access to the Efteling theme park on every day of your stay (including the arrival and departure days). Furthermore, you have access to the Park half an hour earlier. The following attractions will already be open specially for you: Fata Morgana dark ride, family roller coaster Max & Moritz, 4D film adventure Fabula, Baron 1898, Python roller coaster with loops, Nest! Play Forest, Kinderspoor pedal trains, Kleuterhof children's playground, Vogel Rok indoor roller coaster in the dark, Carnaval Festival, Pagode thai temple with high panoramic view, Villa Volta madhouse and Droomvlucht dark ride.
From Holiday Village Efteling Bosrijk to Efteling Theme Park
Holiday Village Efteling Bosrijk is located within an approximately 10 minute walk from Efteling Theme Park. A train also runs between the holiday village and Efteling Theme Park. This train runs in the mornings and evenings and leaves every 20 minutes from and to the Park. Please ask the reception for the exact timetable.
Map
---
View the location of all the accommodations and facilities on the map. Have you seen somewhere nice? You are free to choose the location of your house! You can indicate your preferred location for €25.00 and we will reserve that great location especially for you. You can indicate this while booking or afterwards by contacting us.
View the map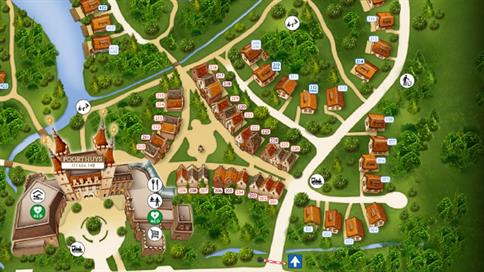 Facilities at the Holiday Village Efteling Bosrijk
The Poorthuys
The centrally located Poorthuys accommodates family rooms and facilities of Holiday Village Efteling Bosrijk. The Eethuys restaurant, Badhuys indoor splash pool, Kleyn Waerenhuys grocer's shop and the reception are located here.
The reception
The reception of the Holiday Village Efteling Bosrijk is open from 7.00 am to 10.30 pm. They provide the following services:
Restaurant reservations
Reservations for the Efteling Theatre
Wheelchair rental (€50.00 deposit)
Extra high-chair or (baby's) bed (highchair €5.00 per night, extra (baby's) bed €10.00 per night)
Use of small lockers for storing valuables
Bike rental


Reservations must be made at least one day in advance (before 6.00 pm). The bikes will be delivered to the reception before 10.00 am the following day. Bikes cannot be delivered or picked up on Sundays and Mondays.
Badhuys indoor splash pool
The Badhuys indoor splash pool has a baby pool, toddler pool, 130m deep pool and various play equipment for the children to play with. Your key card gives you access to the Badhuys indoor splash pool. There are changing rooms and lockers which can be used to store your bag, clothing and shoes. Children under 10 years of age may only enter the Badhuys indoor splash pool accompanied by someone older than 18 and must wear water wings.
Please note that you need a COVID passport and a reservation to visit the Badhuys.
Eethuys restaurant
In the Eethuys restaurant, you can enjoy a tasty breakfast between 8.00 am and 11.00 am. Enjoy a delicious lunch here from 12.00 pm and dine together in an atmospheric ambience from 5.00 pm.
Please note that you need a COVID passport inside all restaurants nd on their terraces. Check all current options on the special coronavirus measures page.
Kleyn Waerenhuys grocer's shop
In this shop next to the reception, you'll find a variety of treats, such as crisps, nuts and wine. The Kleyn Waerenhuys grocer's shop is open at the following times:
8 am - 11 am & 5 pm - 8 pm

Pizza delivery
Feel like relaxing on the sofa after a long day in the theme park? We deliver the pizza to you free of charge! Take a look at the menu and order via the online order system from 16.00h.
Make your overnight stay even more special
---
Choose from the many additional services, such as an enchanting Efteling gift or a grocery package full of treats. Do you have something to celebrate? Make your stay a true celebration with the delicious Bosrijkse Brouw beer, a party pack with bunting and a cream cake. Additional services can be added to your booking in My Efteling.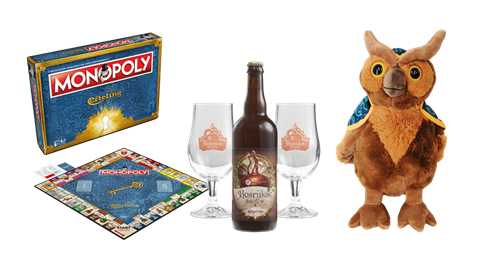 Payment and cancellation
---
Payment
It is possible to pay the full amount for overnight stays in Holiday Village Efteling Bosrijk in one go or to pay a deposit. The down payment consists of 30% of the total price and can be made up to six weeks in advance. You must have paid the entire amount six weeks before the check-in date. You can pay the remaining amount via your Efteling account.

Cancellation
Of course, it is possible to cancel your booking. However, please be aware, that if you do, you may be charged a cancellation fee. You can read more about cancellations in our terms and conditions. To avoid incurring cancellation charges you can purchase a cancellation service which can be added during the booking process and costs €3.50 per person.
Disabled guests
---
Efteling Village Bosrijk includes houses that have been specially adapted for disabled visitors. Disabled visitors may also park in the special parking spaces alongside their accommodation. There is also a lift in the Poorthuys main building.

You may borrow a wheelchair at the reception (deposit required) and collect a pass that entitles you to make use of the special facilities in Efteling Park. In order to receive a pass, you must have a valid doctor's certificate (max. two years old), stating that you are unable to visit the park and/or its attractions without assistance.
Dogs
---
Your dog is welcome in most accommodations. If you would like to bring your dog, please indicate this in your booking. You pay €19.50 per house for the stay of two dogs at most. Dogs are not allowed in public places in Holiday Village Efteling Bosrijk, but there are dog walking areas there. Please keep your dog on a leash when you are walking through Holiday Village Efteling Bosrijk.

Dogs are not allowed in Efteling Theme Park. While you are visiting the theme park, dogs may only stay in your accommodation if they are in a cage. You may also make use of the free dog kennel located near the main entrance to Efteling Theme Park. You yourself are responsible for feeding and walking your dog while it is there.