Holle Bolle Gijs Paper gobblers
Meet the forever hungry family of Holle Bolle Gijs
In a land far away...
lived a family who were always hungry but didn't like meat, bread or fish, it was in fact paper they prefered to gobble up.  They made their favourite meal their profession and keep Efteling's environment clean and free from rubbish.  You will hear them shout 'Papier hier' whenever you pass by, so if you have any paper rubbish with you during your visit, please stop by and feed them - they will thank you!
Holle Bolle Gijs
Holle Bolle Gijs can swallow big pieces of food. A cow and a calf and a whole horse and a half. An ox and a bull and seven barrels of beer. A boat full of sheep yet Gijs the Big Mouth would not be able to sleep because of his hunger.
Gijs' Twins
Mother Gijs with her twins, friendly asks for paper before the crying begins. Feed them with all papers you've got or else they'll yell a lot.
Baby Gijs
Baby Gijs is sitting here, always hungry for 'papier'. He's the son of Holle Bolle Gijs the first, give him paper otherwise his hunger gets worse.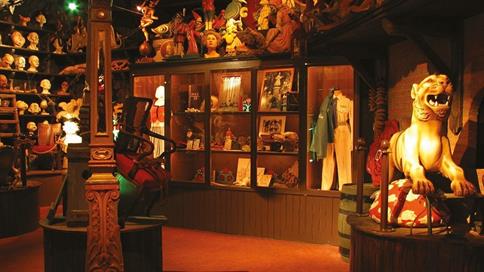 The family history continues…
---
In the Efteling museum you'll learn everything about Holle Bolle Gijs. Former employees love to show you around and tell stories from the past. So you understand the park as it is today: a World of Wonders that last.
Discover museum
Experience more in Efteling