Enchanting overnight stays
---
Nothing is too crazy in this colourful Carousel Suite! This spacious themed suite in the tower room features two spacious double beds, a spacious sitting area and a rain shower. Have fun with the rocking horse and distorting mirrors or watch one of the Efteling series on TV.
Included:
Rocking horse and distorting mirrors
Breakfast
Access to the park during the entire stay
Prices & Availability
The price is based on the number of occupants, length of stay and arrival date:
---
Last-minute deal
Offer
Early booking discount
Package deal
About this Carousel Suite for 4 persons
Number of persons: 4
Bathrooms: 1
Toilets: 1
Bedrooms: 1
Surface: 53 m2  
Location: 5 minutes walk to the theme park
Check in: 3 pm
Check out: 11 am

Summary of all provisions
Sleeping
Bathroom fixtures
Double Wash basin
1 x Walk-in shower with rain shower
1 x Over bath shower
Towels (1 small and 1 large towel per person)
Bath robes
1 x Toilets
Hair dryer
Various Toiletries
Washbasin step stool
Children's toilet seat
Relaxation
Sitting corner
2 x Television
Various
Free parking at the hotel
Small fridge
Coffee maker (Nespresso)
Kettle
Cloakroom
Safe
Air-conditioning
WiFi
Non-smoking
Breakfast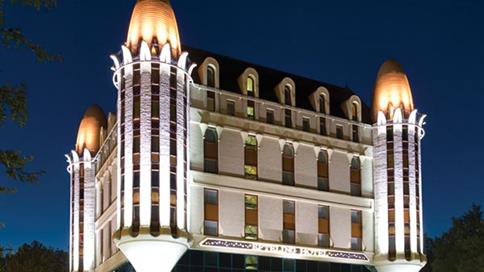 All facilities in this accommodation
---
This Carousel Suite is in the Efteling Hotel. This hotel is located adjacent to the theme park. You will find various restaurants serving breakfast, lunch, snacks and dinner. Daily entertainment is available, and for children there is an indoor Kids' Castle to clamber on. From reception it is a 5 minute walk to the special hotel guests' entrance to the Efteling theme park.
More about Efteling Hotel