Enchanting overnight stays
---
This luxurious and stylish Adapted comfort room is equipped with all comforts. The hotel room is suitable for up to two visitors with disabilities and features a generous double bed, two single beds, a seating area and bathroom with toilet and shower with support and seat (on request). In the evening, you can play games together or enjoy one of the Efteling series on TV.
Including:
Generous breakfast

Unlimited access to the Park
Half an hour earlier access to the Park
Prices & Availability
The price is based on the number of occupants, length of stay and arrival date:
---
Last-minute deal
Offer
Early booking discount
Package deal
About this adapted comfort room for 4 persons
Number of persons: 4
Bathrooms: 1
Toilets: 1
Bedrooms: 1
Surface: 29 m2
Location: 5 minutes walk to the theme park
Check in: 4 pm
Check out: 10.30 am

Summary of all provisions
Sleeping
1 x double bed


2 x single bed (side by side)

Baby bed available on request and against payment of an additional fee (including bed linen, blanket and standard soft base, but without mattress. A soft mattress is available at the reception.).

Bathroom fixtures
Wash basin
Spacious shower
Towels (1 small and 1 large towel per person)
Toilet
Hair dryer
Shampoo, body wash and hand soap from The Gift Label's Efteling collection
Washbasin step stool
Children's toilet seat (available at the reception)
Relaxation
Various
Free parking at the hotel
Parking spaces for the disabled
Kettle for coffee and tea
Welcome package (coffee, tea, sugar and milk)
Small fridge
Cloakroom
Safe
Air-conditioning
WiFi
Non-smoking
Breakfast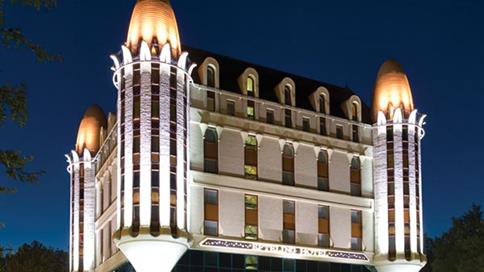 All facilities in this accommodation
---
This adapted Comfort Room is in the Efteling Hotel. This hotel is located adjacent to the theme park. You will find various restaurants serving breakfast, lunch, snacks and dinner. Daily entertainment is available, and for children there is an indoor Kids' Castle to clamber on. From reception it is a 5 minute walk to the special hotel guests' entrance to the Efteling theme park.
More about Efteling Hotel