The Badhuys indoor water playground
Splashing water fun for the whole family
Water fun for young and old
---
Come and splash in the warm water, let yourself be swept away by the rapids or unwind in the Jacuzzi. In the Badhuys in Efteling Bosrijk you can completely relax. This indoor water playground has a baby bath, paddling pool, large swimming pool and various play elements. Come enjoy the joys of water with the whole family!
Opening hours
Monday to Friday:
3 p.m. – 10 p.m.

Saturday to Sunday:
8 a.m. – 10 p.m.

For current opening hours, please inquire at the reception.
Aquatic fun for children
---
In the wading pool and the toddler pool, you'll find fun toys such as boats, buckets and watering cans. In the large pool, kids can have fun with a game of buckets. The buckets are hung from the ceiling and can be operated using levers located outside the pool. You can fill and empty the buckets, creating a real deluge!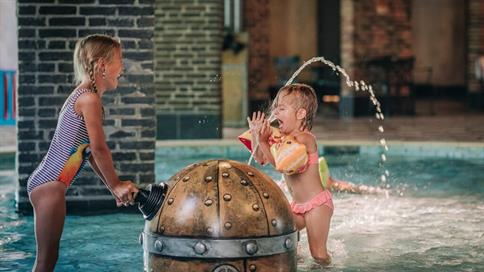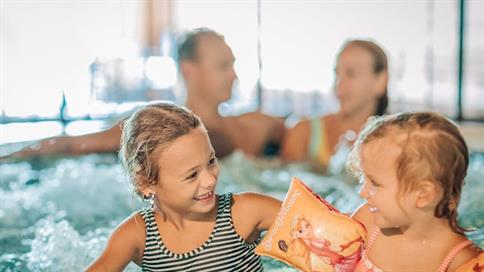 From baby paddling pool to Jacuzzi
---
The Badhuys is not only suitable for small children. Mom and dad can also come here to unwind. How about a relaxing break in the Jacuzzi or on the bubble bench? Or let yourself be carried away by the rapids. Enjoy the warm water and relax!
Practical information
---
Access to the Badhuys
The Badhuys is located in the Poorthuys main building and is accessible for overnight guests staying at Holiday Village Efteling Bosrijk and the Efteling Hotel.. You can get access to the Badhuys with the key card. There are locker rooms and lockers to store your bag, clothes and shoes. Visits to the indoor water playground are at your own risk. We advise you to leave your money, jewelry and other valuables at home as much as possible. In addition, audio equipment, water toys or air mattresses are not allowed in the Badhuys.

Children
Children under the age of 10 are only allowed to enter the Badhuys with someone over the age of 18. Children who are not in possession of a swimming diploma are obliged to wear swim armbands. These are for sale at the Badhuys, as well as swim diapers.

Disabled people
There is a pool lift in the 130 cm deep swimming pool. This pool lift is located at the edge of the swimming pool and allows unobstructed access into the water.
Facilities
Paddling pool for babies (15 cm)
Shallow pool for toddlers (25 cm)
Swimming pool (130 cm)
Bubble bench
Jacuzzi
Rapids
Play elements
Lockers (€ 0.50 each)
Showers
Changing rooms
Pool lift