Het Wapen van Raveleijn restaurant
Treat your guests to a medieval scene
---
Dinner without a visit to the park? That is also possible! Het Wapen van Raveleijn restaurant welcomes you and your guests at 17.00 h at the entrance to Efteling. You can immediately sit down to dinner after a visit to the Raveleijn parkshow in the largest event venue in Efteling. In Het Wapen van Raveleijn restaurant, large groups can also choose one of the Raveleijn arrangements, apart from the normal menu.
We look forward to working with you.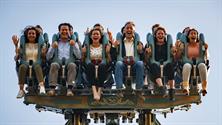 If you have any questions or would like a quote, please contact us via:
The Raveleijn arrangements
---
Groups from 20 persons can enjoy various lunch or dinner arrangements. There is also a special offer for children. The arrangements start with a visit to the Raveleijn parkshow (20 minutes) and must be booked in advance. In this way you book seats for the show as well as for the restaurant.
Entirely according to your wishes
---
To finish a team day out, Het Wapen van Raveleijn restaurant is equally ideal for smaller groups, who can have a delicious pot-luck dinner. But the venue can also be used for a (business) lunch, dinner or made-to-measure drinks party. Together we will decide how we can cater for your wishes for your informal moment after or during an event.