Holiday village Efteling Loonsche Land
Enjoyment for your colleagues or clients in a natural environment
---
The recently opened Holiday Village Efteling Loonsche Land is surrounded by nature. Your guests can relax here after an enchanting party in Efteling. With accommodation above, on top of or even under the ground an overnight stay, just like the party, will create a lasting memory. Also during longer events, the holiday village (within walking distance of Efteling theme park) is an ideal place to stay.
We look forward to working with you.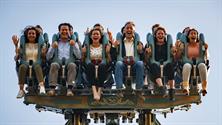 If you have any questions or would like a quote, please contact us via:
Relax in the peace and quiet of Holiday Village Efteling Loonsche Land
---
After a day of meetings, an enchanting party or a convention lasting several days, it is wonderful to be able to sit back and unwind. The hotel and holiday homes in Holiday Village Efteling Loonsche Land are made from natural materials and are at one with the surroundings. Your guests can enjoy seasonal, local produce from restaurant's our own kitchen garden.
View Holiday Village Efteling Loonsche Land