Enchant your guests at this fairytale venue
---
The enchanting Droomvlucht Palace is located in the Droomvlucht dark ride. Here you will find a multifunctional room which completely reflects the atmosphere of the attraction, and which can be used for business events from 80 to 240 persons. The decoration presents a world which will surprise your guests.
We look forward to working with you.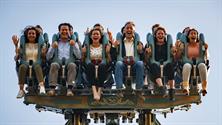 If you have any questions or would like a quote, please contact us via events@efteling.com.
The Droomvlucht Palace
---
The fairytale room in the Droomvlucht Palace is especially suitable as a venue for a kick-off meeting or an award presentation. The room can be set up in many ways, suited to the event you wish to organise. After the closing time of the park, an additional room can be made available, which increases the capacity of the Droomvlucht Palace to 350 persons.
| Area | Theatre | Reception | Buffet | Dinner |
| --- | --- | --- | --- | --- |
| 350 m2 | 350 | 350 | 170 | 135 |
Entertainment
---
You can also have entertainment arranged for your guests. Our professional entertainers let you dream with your eyes wide open. Enjoy magic tricks, a DJ, a band or dance group.