Efteling opened exclusively for your event
---
You can rent all or part of the park specially for your employees and business relations. Efteling with all its enchanting attractions is fully at your disposal. Theme park hires can take place during the day, in the evening and even during Winter Efteling.


Efteling, with all its attractions, shops, restaurants and shows, serves as the décor for your event. Your guests are submerged in an enchanting world for a whole day. On a few days of the year, it is possible to organise an eventa for groups of up to 16,000 persons, possibly with a special theme.
We look forward to working with you.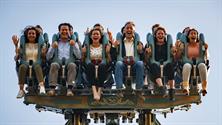 If you have any questions or would like a quote, please contact us via events@efteling.com.
A Theme Park exclusive hire fulfils all your wishes:
---
The whole park or part of it exclusively for your guests
Your organisation presented in its own style
Please thousands, young and old
A priceless memory in enchanting surroundings
An appealing price per person
Together with you we make unforgettable memories; for your staff, your clients and you!
Would you like the Efteling Park exclusively for your staff or clients?
---
This is possible with a Theme Park Hire! See for yourself how the staff at AS Watson experienced their Theme Park Hire.
Winter Efteling
---
When the enchantment of Winter Efteling makes its appearance in the park, little lights flicker everywhere, and everything is covered in a little white powdery layer. During this period it is possible to book the park for a wintry event for up to 13,000 persons.