Celebrate your company anniversary in the enchanting surroundings of Efteling
---
Treat everyone on your anniversary! Efteling invites you to celebrate your anniversary, with all your employees and/or business relations. Together with you, we will ensure that it becomes an unforgettable company anniversary.


An anniversary is a special affair which deserves attention. In Efteling, a company anniversary is always a made-to-measure event, whereby the milestone is central. The park and its business venues are the enchanting backdrop to the party.
We look forward to working with you.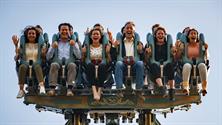 If you have any questions or would like a quote, please contact us via events@efteling.com.
A special occasion in enchanting surroundings
---
An anniversary is a moment in which you and your staff and clients share can memories and create new ones. They deserve to be appreciated, so why not organise your anniversary celebration at Efteling and enchant your guests. View the impressive video with some examples of the possibilities.
What are the possibilities?
---
The possibilities of your company anniversary mainly depend on your imagination. Treat your guests to a park visit with coffee or tea and something tasty, a convivial lunch; an inspiring presentation, a festive meal, a drinks party with live entertainment or a grandiose closing party. And as frosting on the cake: everyone staying overnight in the enchanting accommodation of Efteling?