A grand show in one of our top business venues in Efteling
---
For such a thrilling moment as the presentation of an award,a special venue is required. Suitable business venues which form the perfect surroundings for your award presentation are available in Efteling. Whether you look for a stylish, nostalgic or enchanting venue: you will always find a suitable décor for your award presentation in Efteling.
We look forward to working with you.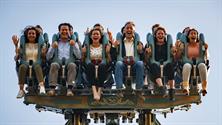 If you have any questions or would like a quote, please contact us via:
---
From festive to chic, from intimate to grand: the possibilities at Efteling are endless. Choose an exclusive visit to one of the realms of the park and finish the day in the attractions or with a festive dinner, drinks reception, or party into the wee hours, surrounded by entertainment.