Your business meeting in the most unique environment you could wish for
---
Are you organising a meeting for 20 people? A kick-off meeting for 100 people? An award presentation for 500 people? Or an (international) congress for more than 1,000 people? With 27 different venues, Efteling always has one that will suit your event.
The unique and inspiring environment will make your event an unprecedented success. And, of course, this must include a visit to the theme park. A stroll through Fairytale Forest or a spectacular ride in the duel-tracked roller coaster Joris en de Draak make the perfect break for your event.
We look forward to working with you.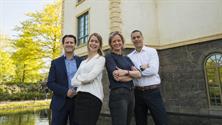 If you have any questions or would like a quote, please contact us via:
The business possibilities illustrated
---
Efteling offers a unique experience in an inspiring location for any gathering. From a meeting set-up in the Fata Morgana Palace to an interactive congress in the Carousel Theatre, Efteling's oldest attraction.
What event are you organizing?