A hearty breakfast, a tasty lunch or a delicious dinner
---
Start your day with a hearty breakfast at the Eethuys restaurant. You can enjoy the fresh products of the breakfast buffet every day of the week between 8 a.m. and 11 a.m. From noon, the restaurant is open for those who want to enjoy lunch. How about a sandwich, bowl of soup or a fresh salad? You are also at the right address at the Eethuys restaurant to enjoy together a savoury dinner or an aperitif in the evening.
Menu
Breakfast buffet
Lunch
Dinner
Drinks
Open daily:
08:00 a.m. – 11:00 p.m.
A good start to the day
---
If you prefer to opt for comfort and ease, your table is set at the Eethuys restaurant. Here you can enjoy a varied breakfast buffet every day of the week. Breakfast with fresh products is served from 8 a.m. to 11 a.m.
Prices breakfast buffet:
Adults: €17.00
Children 4 to 12 years incl.: €8.50
Children up to 3 years incl.: free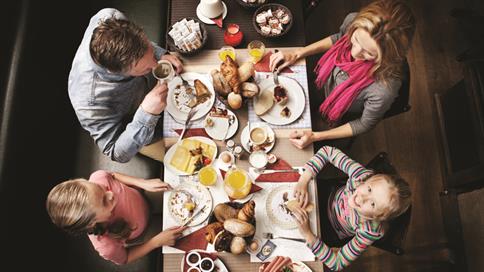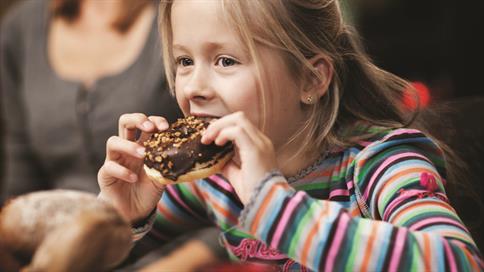 A tasty lunch
---
A Bosrijk sandwich, stews or a special children's menu: come and enjoy the varied lunch menus from our menu!
It is possible to eat a lunch from 12 p.m.
Enjoy a nice meal together
---
Choose from appetizers, main courses and delicious desserts. Or opt for the Bosrijk specialities you can share with the whole table. A children's menu is also available.
It is possible to dine from 5 p.m. Reservation is desirable.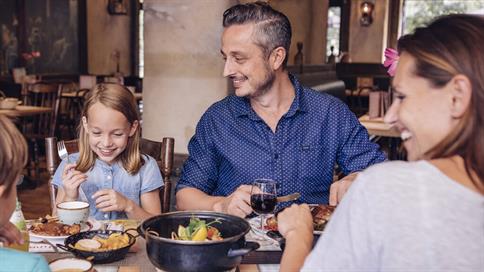 Reservations
Breakfast
Do you want to book a table for breakfast? This can be done at the reception of the Efteling Hotel or by calling +31 (0) 416 537 777 (daily available from 9 a.m. to 9 p.m.).
Dinner
Do you want to book a table for a dinner? You can do this while booking your stay or via My Efteling account after booking.